Principal's
Message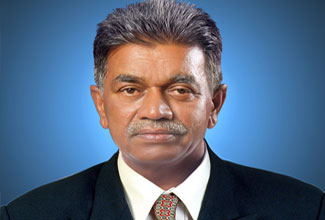 Education is the most powerful weapon which you can use to change the world.
Welcome !!!
Our college is permanently affiliated to Shivaji Unviersity, Kolhapur. It is one of the leading and progressively growing colleges in the Shivaji University jurisdiction. Our college offers UG programmes such as B.A., B.Com., B.Sc., B.B.A., B.C.A., B.C.S., and P.G. Programmes like M.A., M.Com., M.Sc., M.B.A.
Our college is accredited by NAAC with 'B' Grade. The college is having good infrastructural facilities, well equipped laboratories, separate Gymkhana, Ladies Hostel, Big Play Ground, Rich Library and so many.
The students admitted in our college acquire a basic knowledge, expertise skills and capability to fulfill their prime physiological and other economic needs in life. Students can also equip themselves with the basic human values like ethical values, aesthetic sense, social responsibilities and awareness, creativity, openness of mind, honesty, truthfulness and love for others.
The NSS dept. of our college organizes programmes on regular curricular and extracurricular activities and special camps for physical fitness and mental health of the students to raise a sense of love within them for the nation. The NCC department of our college (both boys and girls wing) organizes various activities every year like Tree Plantation, Aids Awareness Rally, Blood Donation Camp, Yoga Day, Rashtriya Yekata Din, Constitutional Day Rally, Voter Day Rally, Pulse Polio Program, Republic Day etc to create physiological awareness in social life. Another feature of the NCC dept. is that after passing the B and C certificate exam, many cadets have been selected in Army, Navy, Air Force, BSF, CISF, Police, Railway Police etc.
The teaching and non teaching staff always dedicated themselves to sustain of the sound and healthy academic environment so that the students reach their goal. We also hope that like past years, our teachers, our students and the guardians will co-operate with us towards the success of our mission,
Prof. Dr. Sambhaji M. Kadam
Principal